STANDARD PACKAGING
Our stone is packaged to secure and protect the product in transit.
Most of our full veneer stone and landscaping products are palletized and sold by exact weight.  We offer a combination of 2 ton and 1 ½ ton pallets standard.
1 ton pallets are available by request.*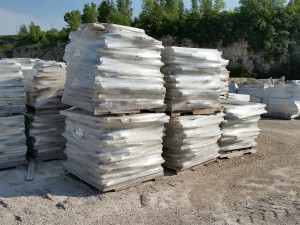 ---
STAND UP PALLETS
We offer the following products on stand up pallets standard:
1"-1 ½" Eden Flagstone
1"- 1 ½" Mountain Crest Flagstone
Eden Thin Flagstone (¾" +/-)
Eden Pavers and Mountain Crest Pavers
All other Flagstone products and small quantity (less than 1 1/2 ton) paver products are shipped standard on laydown pallets. If you prefer stand up pallets for these items as well, your sales representative will be happy to help.* 
---
---
CRATES & BOXES
Thin Veneer is packaged in crates or small boxes.
A standard crate or "Big Box" contains 120 square feet of thin veneer stone flats or 70 linear feet of thin veneer corners.
Small boxes or "Handi-Paks" contain 8 square feet of thin veneer stone flats or 6 linear feet of thin veneer corners.
CUSTOM CRATES*
Custom crates are built for delicate custom pieces.  Special crating is highly recommended whenever your custom product ships on an LTL carrier.
*Surcharges apply for special packaging requests.
---
---
---
VALDERS PACKAGING
Our products are hand-packed on 1-1/2 or 2 ton pallets using styrofoam spacers to ensure that your stone will not be damaged during shipping. After the stone is packaged on the pallet, it is stretch-wrapped and banded with edge clips for extra protection. If the stone will not fit our standard pallet size of 42" x 48", we can provide alternative packaging suggestions and solutions. Depending on the size, we may need to build a crate around the product for LTL shipping. A crate is built with 1/4″ plywood and typically 2″ x 4″ lumber. If a crate or pallet is not suitable for the size of the product, the stone will be placed on an A-frame.  Upright A-frames are commonly used for transporting thin slab material. The frame work is constructed with 2″ x 4″ lumber, and the material is banded to the frame. Since packaging affects pricing and shipping costs, special packaging requirements need to be specified prior to the pricing/bidding of the project. Each individual piece of stone will have a stone mark that you can reference to your shop tickets. These will also appear on the Bill of Lading you will receive at the time of delivery.
---